2009 FRC Season – FIRST Lunacy

Lunacy is the game for the 2009 FIRST Robotics Competition. The name and some of the features of the game honor the 40th anniversary of the first manned mission to the Moon (Latin: Luna). The goal of the game is to score as many of the game pieces in the opposing side's trailers as possible. More Information can be found on Wikipedia .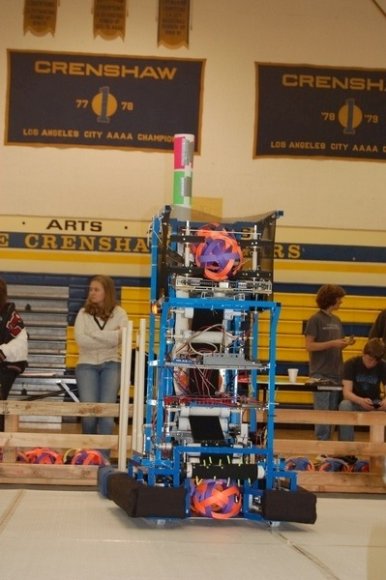 Specs of robot
Name – The Fuzz
Weight – Unknown
Size – Unknown
Robot Abilities
Blue Bot has a four wheel design. It picks up balls from the floor with ease due to its conveyor belt. It drops these balls off at the shooter for a quick shot into the opposing team's trailers. Also, its heavy weight made it a bully on the field.
Where we competed
Los Angles Regional

Rank 14 with a record of 5-4-0
Results
Blue Bot made it into the playoffs, but was defeated int he first round.